Video interview: Curvy Girl Lingerie "Love Letter to a Bully"
Posted on February 15 2014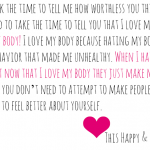 Our "Love Letter to a Bully" campaign received some amazing press coverage and today, Yahoo Shine wrote a story about our campaign and also did a video interview with me today about the campaign that Plus Size Mommy Memoirs and I are collaborating on.
CURVY GIRL VIDEO ON YAHOO LINK
I want to warn you, if you are triggered by mean comments, you might not want to click over to the article and video. It brought out a lot of nasty fat shamers and concern trolls.
So grateful to Jen McLellan, creator of PlusSizeBirth.com and Plus Size Mommy Memoirs for initial idea and her beautiful meme that got this all going. Thank you, Jen.
And, please be sure to share your "Love Letter" to your bully on our Facebook page or here on our blog.
or www.Facebook.com/PlusSizeMommyMemoirs
Sincerely, Chrystal Bougon
www.CurvyGirlInc.com
The post Video interview: Curvy Girl Lingerie "Love Letter to a Bully" appeared first on Curvy Girl Inc..