Valentine's Day Lingerie Ideas for Curvy Girls
Posted on January 29 2015
We're getting all stocked up here at our boutique in San Jose.  And, our various suppliers are at the ready, too! Here are some suggestions for your special Valentine's Day. (And, curvy girls – please get your order in a.s.a.p.)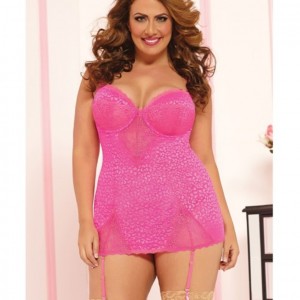 This hot pink leopard chemise is always a hot seller at our boutique and for our online customers. (And, we do ship all over the world!) This item is $60 and has the molded ups and removable garters. It also comes with a matching hot pink g-string.) We find the 1/2x fits women up to about a size 18/20.  The 3/4x could work well on a woman size 20, 22 and possibly a 24 if you don't mind it short. And, the cups fit anywhere from a C up to a DD or bigger if you don't mind a little more over flow. LINK HERE
The hot pink chemise has that pin up girl look and goes great with white or nude thigh highs. Or, take the garters off and don't wear stockings at all.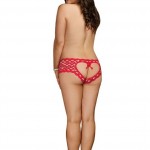 If you are on a budget and just want a lil sumthin special, we have these adorable new heart cut out panties from Dreamgirl.  We have the in red and leopard. 1/2x and 3/4x. They are $22.  The 1/2x will fit women size 16, 18 and 20.  The 3/4x will fit women size 20, 22, 24 and possibly a 26 thanks to the open style.  You can buy them here. 
Or stop by our boutique.  We have some in stock now! Our boutique is on Meridian Ave in San Jose in the 3 Flames Shopping Center. Super easy to find and we are open until 7 on weekdays. 12 to 6 on Saturdays.  11 to 4 on Sundays.  1535 Meridian Ave, San Jose, CA 95125.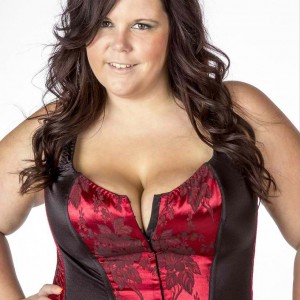 If you cannot make it to our store, we LOVE to recommend this fashion corset to our customers who have to buy online. This floral tapestry corset works on almost everyone. And, it's available in 6 colors and sizes 38, 40, 42,44, 46, 48 and 50. (Go by your bra size.)  We think it's a really safe bet for people who have to shop online and can't come and shop here in San Jose.  Buying plus size clothes online is SO difficult. We want to make it as simple as possible so we don't have to spend a bunch of our time and your time returning/exchanging things.  This corset has 4 panels of spandex that makes it work on all body types. Your curves can be anywhere. This one will work. Small boobs. Big boobs. It works! Trust us on this one!  It also comes with a matching g-string. And, the best part is that you can have sex and a meal in this one!
We have a super cool brand of lingerie from a company called Coquette and we love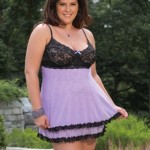 their lingerie, because they actually cut their lingerie generously. So, anytime you see something our our website with the part number cq – that is them.  We have found that their 3/4x will fit our customers size 26/28. WHICH IS SO FREAKING AWESOME. My customers and I would love more options in that size. This lilac baby doll is a perfect example. This 3/4x will fit a woman size 26/28. It does have underwires, too. 2 skirts for lots of coverage for your booty. This baby doll is $45.   BUY HERE      It does come with a gstring.
The post Valentine's Day Lingerie Ideas for Curvy Girls appeared first on Curvy Girl Inc..