The Sexy Shawna
Posted on June 12 2015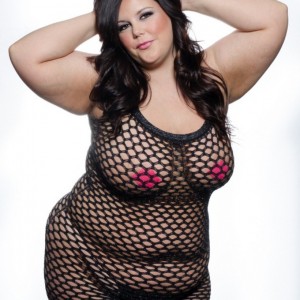 The Shawna is the perfect "trashy on purpose" piece. You will fall madly crazy in love with our Pink Lipstick dresses. They all come in a size QUEEN / PLUS and they say 2x on the box.  This one size dress – what they call a 2x – fits our customers size 12/14 to size 26. SERIOUSLY. They are this awesome stretchy material that hugs your curves in all the right ways and just look so super sexy on! Now don't be afraid of trashy lingerie. Yes, it can be over whelming and lets face it a little frightening. Most people don't like to feel exposed, especially if you are a little self-conscious. When I first started purchasing lingerie I purchased a PinkLipstick dress just like this. Like most, I purchased the dress, hid it from my partner, and  wanted to surprise him. I chickened out about twice. I finally got up the courage, put on some heels, and put my dress on. I walked out sheepishly into the living room and the look on my partner's face was priceless. After I saw his expression I felt like a vixen. It's definitely a favorite and a go to. Whenever I want to get my partner's engine started, I put The Shawna on. Works EVERY TIME!
Just because we have more cushion for the pushin' or are curvy doesn't mean we have to hide behind anything when it comes to sex. We all have beautiful bodies. I hope The Shawna makes you feel like a sex kitten, and sparks some fun. *Wink*
We sell The Shawna instore and online. Our store is open 7 days a week and we are located at 1535 Meridian Ave, San Jose, CA 95125. Please give us a call with any questions (408)264-4227
Don't forget to follow us on Instagram @Curvygirllingerie, Tweet with us on Twitter @BlissConnection, and like us on Facebook.
Also become a Curvy Girl Insider by texting 22828 for in store and online promotions.
In case you missed the links above. The Shawna, PinkLipstick, and our Trashy on Purpose blog.
Stay tuned for information about our Curvy Girl Fashion Show this August.
The post The Sexy Shawna appeared first on Curvy Girl Inc..