Shave What? With What?
Posted on August 26 2015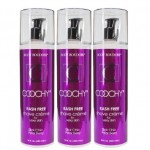 Now some of you lovely people prefer to wax, I can totally get down with that! However, rather you are shaving your love parts, your arm pits, your legs, your face, this is magic! I used it recently while in the shower. I wanted to test it out. I mean it says "Rash Free" but really most things say that and they aren't. So I put it to the test. I used a not so awesome store brand disposable razor…DEADLY COMBO I know! I let my leg hair grow out for a few days, it wasn't a winter pelt but it was too long to be out in public with. (Unless that is what you're into. Then by all means let them leg hairs fly freely in the wind) The cream does not come out like regular store brand shave gel. There was no fun foam to play with, it is a shave cream on a mission. I proceeded to shave my leg. With each stroke of the razor all I could think was "Great, razor burn". After the my shower I put lotion on as normal. Much to my surprise, NO RAZOR BURN! I didn't believe it! Seriously. So I let my arm pits grow out for a few days. I tried the cream again! No weird arm pit rash, no burn! Even with a lame razor my legs and pits felt smooth.
We sell one size online and a few different sizes in store. Its totally worth it. Even if its just for legs or pits. I highly HIGHLY recommend it.
Here is the link again in case you missed it Coochy Rash Free Shave Cream
Our store located at 1535 Meridian Ave, San Jose, CA 95125. Give us a call if you have any questions at (408) 264-4227. We are open 7 days a week and would be happy to hear from you.
Don't forget to follow us on Instagram @Curvygirllingerie, Tweet with us on Twitter@BlissConnection, and like us on Facebook.
Also become a Curvy Girl Insider by texting 22828 for in store and online promotions
The post Shave What? With What? appeared first on Curvy Girl Inc..