Safe, compassionate place to shop for lingerie : Curvy Girl Lingerie
Posted on May 02 2014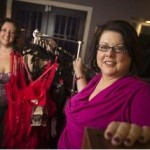 I am so honored to have written a blog for The Militant Baker and so grateful to Jes Baker for the opportunity. I wrote a blog for her about why I opened my store and why I feel like everyone deserves a safe place to shop for lingerie. (My store is a plus size lingerie store in San Jose, CA , by the way.)
Here is the link to the full story on Jes' blog:
Why we all need a Safe Place to shop for Lingerie on the Militant Baker
Opening Curvy Girl Lingerie was basically a 25 year dream of mine. It's been the most amazing and rewarding adventure! We have this super cool Curvy Girl community online and in person. I have made hundreds of new girlfriends and I have the most amazing support team that keeps me motivated and excited every day.
If you haven't joined us, yet, our Facebook page is  www.facebook.com/curvygirlinc and if you want to get our Curvy Girl newsletter, text us the word curvygirl to 22828 and you will get our newsletters. I send out about 1 to 4 a month!
Thank you, Jes, for sharing my passion and my store with the world!
Blissfully, Chrystal Bougon
The post Safe, compassionate place to shop for lingerie : Curvy Girl Lingerie appeared first on Curvy Girl Inc..