Restore Your Roar in Hawaii with Amanda Trusty
Posted on December 06 2015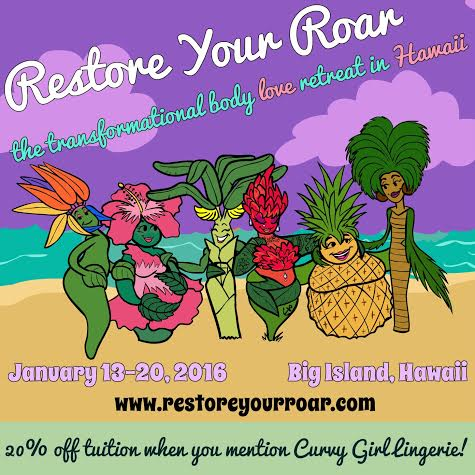 How do I love thee, Amanda Trusty! Let me count the ways! Do you remember when this amazing woman's video went viral two years ago? She blew my mind and touched my heart when she was dancing her ass off and peeling away those labels. Brilliant! I knew I had to know her immediately!  (Amanda's video on You Tube has over 1Million views. LINK HERE.)
((( And a little BUSINESS STUFF HERE…be sure to follow Amanda on Facebook and her blog is AmandaTrustySays.com and be sure to give your Facebook love as you will love her posts and her updates about her BODY LOVE retreat. Amanda on Facebook here.)))
Ok, so let's get to the ALOHA Restore Your Roar Body Love Details!
She has a RESTORE YOUR ROAR retreat coming up and only a few spots left. She has kindly offered a 20% off to my Curvy Girl fans.  Don't you need a vacation in Hawaii in January? Gosh, does that sound like heaven right now or what???
Hawaii and BODY LOVE all in one place and a clothing optional pool.  HELLSYAH!
Here are some of the details from Amanda and her partner Olivia. Curvies, does any of this interest you?
-Movement and dance paired with positive affirmations glorifying your body, strength, and femininity
-Discussions and coaching on body image, emotional eating, self-esteem, female sexuality and health
-Burlesque class and movement
-Exploring Hawai'i and experiencing Hawaiian food, Hawaiian beaches, Hawaiian volcanoes
-A week away from home
-A clothing optional pool, a spa treatment by the ocean, snorkeling with turtles
All these things certainly sound amazing to me, and my friend and fellow body positive activist, Amanda Trusty is offering all of them in one place this January.
Amanda, alongside her partner Olivia Petzy, offers a transformational body love retreat in Hawai'i called Restore Your Roar. And the goal is to do just that. Restore. Rejuvenate. Retrain the mind, to believe what you've always wanted it to believe.
You can do anything. You can be anything. Space is EXTREMELY limited. Sign up here today, and take 20% off your tuition when you mention Curvy Girl Lingerie. http://kalani.com/workshops/2016/restore-your-roar-re-boot-camp
If I didn't have a hundred things going on this January, I would LOVE to attend this. I have some new resolutions and one of them is to FLY WHILE FAT more in 2016… just to piss of the fat shamers and concern trolls.

If you're interested, reach out to Amanda via email or Facebook. I know she would be happy to answer all of your questions and help you get your ISLAND STYLE Body Love Retreat all booked for you. Be sure to mention Curvy Girl, peeps.
Maholo!
Just for kicks, here is my blog I wrote about Amanda two years ago when I first fell in love with this woman via a YOU TUBE video. Love the way social media works.
The post Restore Your Roar in Hawaii with Amanda Trusty appeared first on Curvy Girl Inc..