Our new Curvy Girl Cover Girls for our Plus Size Lingerie Store
Posted on May 03 2014
Would you rather see lingerie on a "regular woman" or a glossy model from the designer? My guess is a "regular woman."  We decided to photograph some of our super fabulous customers in our lingerie so we could show all of you exactly what the lingerie looks like on a woman who is NOT a professional model. (We will likely have a good mix of professional models and customers on our online store http://shop.curvygirlinc.com
So we got together with some friends and did a photoshoot and we can't wait to get the photos back from our photographer, but here are a few we snapped with our phones during the photo shoot. I have some Curvy Girl Thank You's to Ofelia of O Spa Salon in Los Gatos who did the professional make up and she is such an amazing professional to work with.
She took the natural beauty of these 3 lovely ladies and made them look sultry and sexy. Be sure to check out Ofelia's spa in Los Gatos on Royce Ave. I always joke that Ofelia and her spa are the reason I even own eyebrows. (She does semi perm eyebrow tattoos, hydra facials, wraps, teeth whitening and much more at her fab spa!)
Also, the photographer is my friend Joie Cameron Brown and her photography website is JoieCameronBrown.com. I only got to see the proofs that night as we did the shoot, but they are going to be epic! I am so excited for this ground breaking project and so grateful to Joie and to Ofelia for helping me to make this happen. You can also follow Joie on Facebook here. Joie Brown on Facebook. Follow O Spa and Ofelia on Facebook here.
The three models are 3 of my favorite customers.  Jeanette is pictured in the sexy post and hot pink baby doll at the top of this article. Jeanette worked her curves with style and sass. She has confidence for days and we kicked off the photo shoot with Jeanette as our lead model. She got us all started on the right foot and helped to calm everyone's jitters. Thank you, Jeanette. I am eternally grateful to you for all of your support since we opened our doors in Oct. 2012.
Then, we photographed Shawna and Leilani. Shawna is a fairly new customer and Leilani modeled in our Curvy Girl Fashion Show last year. Like Jeanette, these two curvy girls are full of flirty, sassy, playful energy and their pictures are going to be fab. Honestly, all three women could be models…. and well, now they are. They are our first ever 3 Curvy Girl Cover Girls.  Leilani and Shawna, thank you so much for all of your enthusiasm and letting your inner vixen shine through and for all of your Curvy Girl support. My heart has been touched by all three of you cover girls.
Ok, here are some more pics of these sexy ladies. And, just as a reminder, you know – when you are fat and you pose for a website, blog, or Facebook page – you sort of know going in that there are going to be shamers, haters and concern trolls. These 3 cover girls did this photo shoot knowing full well that they may receive some negative feedback and that takes OVARIES OF STEEL! Love you girls. xo, Chrystal
Curvy Girl Cover Girls 2014
Leilani showing off a purple key hole chemise
Shawna rocking a fishnet dress from Pink Lipstick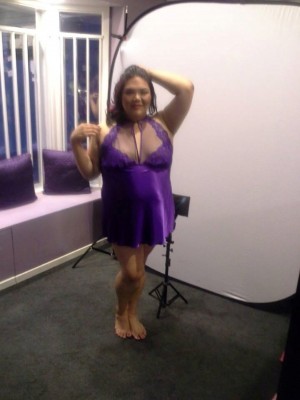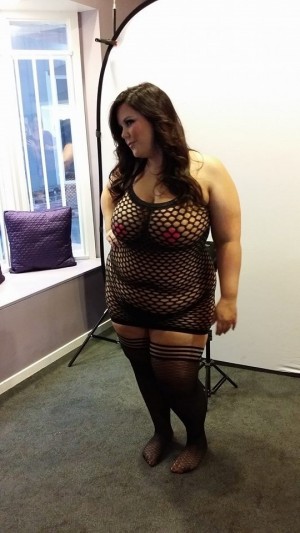 You can browse all of our lingerie online at http://shop.curvygirlinc.com and be sure to use the code curvy for 10% off.
Also, if you text us the word curvygirl to 22828 and we will add you to our newsletter. We typically send 1 to possibly 4 in a month.
Sincerely, Chrystal Bougon
Owner and Resident Curvy Girl
Tel: 408-264-4227
The post Our new Curvy Girl Cover Girls for our Plus Size Lingerie Store appeared first on Curvy Girl Inc..