No BODY POLICING. Don't Judge a Body That Isn't Yours
Posted on November 08 2015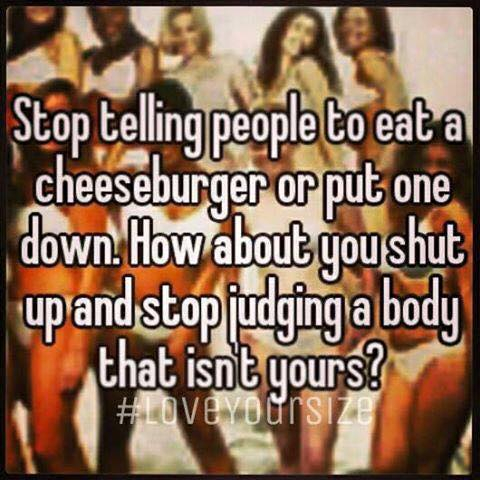 This past weekend, I got all pissed off. I shared a photo of a new piece of lingerie that I was not sure was going to be an item that would do well at our store or online, so I shared it on my Curvy Girl Facebook page.
All Hell Broke Loose!
Facebook Link with all the comments, likes, and shares. IT WAS WILD! All over one piece of lingerie and the models body type! FRUSTRATED Panda, over here.
114 Shares. 3,750 likes and comments.  The reach was 39,000+.  All because some people did not like her body type. WTF?????????? Like this meme says. Stop juding a body that isn't yours!
ALL BECAUSE A FEW PEOPLE THOUGHT THE MODEL was a "twig" and "too small" for my page.
Ok, CAN WE JUST PLEASE STOP.
For starters, this is the BODY ACCEPTANCE movement. That means body acceptance for all body types. For fucks sake. Can we please START following our own rules? I mean, how would you feel if we posted a photo of you and a bunch of fans started chiming in that you were TOO fat or TOO thin for my page?
It's like I said in the blog about Tess Holiday, if you don't want the entire universe creating a debate about the actual size you wear, we don't get to debate what size Tess Holliday actually wears. Same Rules apply. Your body. Your business. Her body. Her business.
I have said it a million times, but there are enough shamers and haters in the world. Can we please not hate on each other? Do not leave little posts like "i wish you use fatter models" or "she is a twig."  For starters, I am doing the absolute best I can to just keep my doors open. When designers give me FREE high res photos to use for these photo shoots, I have to take advantage of them. So, just trust I am doing the absolute best I can to photograph our customers in our lingerie. It is EXPENSIVE. And, when I cannot get to each new items, I have to rely on the professional models.  But that is totally beside the point.  DO NOT CRITICIZE anyone's body on my pages. It's just total bullshit and exactly the opposite of what we're trying to create.
Feel me?
Are you a Curvy Girl Insider? Text us the word curvygirl (one word) to 22828 and you will be added to our newsletter.
Following us on Intagram?   http://Instagram.com/CurvyGirlLingerie
#curvygirlrock #allbodiesaregoodbodies #bodyacceptance #bebodyposi #fatshamerscanbiteme
The post No BODY POLICING. Don't Judge a Body That Isn't Yours appeared first on Curvy Girl Inc..