Naughty or Nice at Curvy Girl Lingerie
Posted on November 25 2012
Isn't this a sexy "Santa's Helper" outfit. We carry this in a 1x/2x and a 3x/4x. Just too cute. You can be as sexy as you want to be at Curvy Girl Lingerie. I am sure even the "scroogiest" Santa will have a big smile on his face when you show up on Christmas Eve in this 4 piece hot pink chemise and velvet hat.  Have you been naughty or nice?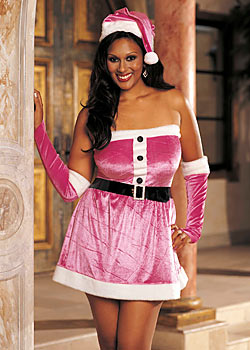 This outfit includes the dress, the gloves, the hat and the belt. Everything you need to be the perfect naughty helper this Christmas.
At Curvy Girl Lingerie, Sexy Isn't a Size, it's an Attitude.
You can buy this Pink Santa's Helper here. The first button is for the 1x/2x dress. The second button is for the 3x/4x. Shipping is $6.00. I will pay the sales tax if you are in California. So, $38 out the door.
Pink Santa's Helper 1x/2x
We carry this at the store and the cost is $32. Or you can order it online here and we will mail it to you. Allow about a week for shipment and delivery. Have any questions? You can comment here or email me at blissconnection@gmail.com
Be sure to LIKE us on Facebook.   www.Facebook.com/CurvyGirlInc
Sincerely, Chrystal Bougon
Our retail store is in Willow Glen.  1535 Meridian Ave, San Jose, CA 95125
We are in the Three Flames and Rookies parking lot.
The post Naughty or Nice at Curvy Girl Lingerie appeared first on Curvy Girl Inc..