Lingerie that is Perfect for our Tall Curvy Customers
Posted on April 07 2015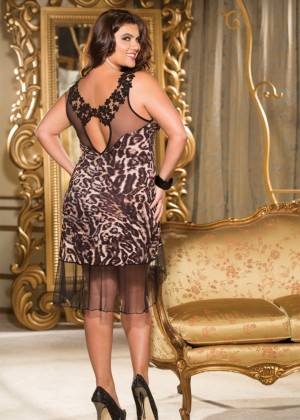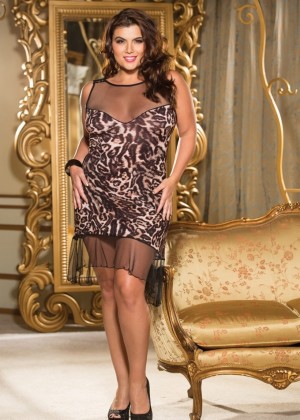 I am busy writing/planning a bunch of blogs that will be helpful for our curvy girls that are short, tall, small cups, extra big cups, big hips, short legs, etc.  This is my first in that series. I thought I would start with our tall plus-size customers. I realize that tall women really struggle in finding pants that are long enough. Tall women know that the struggle is REAL! Often, our tall customers are not FAT at all. I empathize with them. I know the pain and stress shopping creates for them. We get asked the question often at our boutique. "Which lingerie will fit my tall, plus sized body?"
Here are some of the pieces we have had success with our customers 5'8″ and taller. I hope it helps to put some suggestions all here in one post.
The leopard chemise / dress in this blog is called "The Marie" on our website. It's available in 1x, 2x and 3x. We have noticed that the 3x will fit a woman about a size 22/24 through the hips.
The model shown in this photo is about 5'10 tall, to give you some perspective. I am guessing she is a 1x and probably about a size 14/16 in real life. Beautiful and love the sheer skirt. Sexy and you may even be able to wear this one out. The back is VERY sexy, isn't it!
This dress, we are calling "The Carol" would also be a great choice for our taller curvies. The "Carol" comes in 4 colors, too. Sizes 1x, 2x and 3x. Same designer as the "Marie."  Intimate Attitudes makes these chemises. Super soft and pretty. Easy to care for.  The can be washed on gentle cycle and then just hang to dry.  Click here to BUY the "Carol" dress from our online store.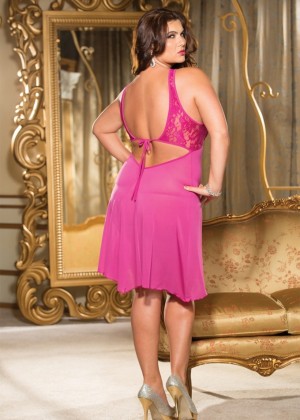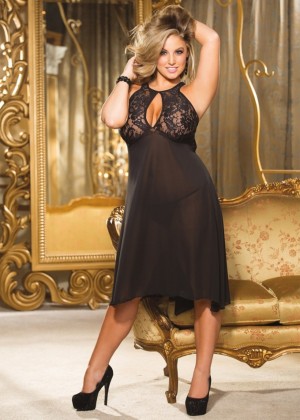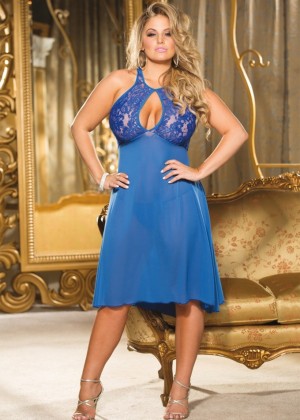 We have seen the "Elise" from Coquette on many of our customers at our boutique in San Jose. This designer typically runs large. WE LOVE COQUETTE! They are a designer from Canada and our customers love their lingerie. The 1/2x will fit women up to size 22. The 3/4x will fit women size 22, 24, 26 and 28. And, this chemise works fantastically on our tall customers.  Personally I am 5'7″ tall and I would even prefer it a bit shorter myself. I do have a longer body and shorter legs. This is also super silky soft. Personally I like to pair it with sexy bra for more OOMPH!
This cute and simple dress we call "The Crystal" is available in red and black. This could work well, too. Very soft micro fiber material. Very curve hugging.
We love the Leopard Baby Doll from Fantasy Lingerie on our taller customers, too. This one also works well for our customers with smaller cups, too.
This jersey ballerina works WONDERFULLY on our tall customers. Super soft rayon and comes in 3 colors.  Very affordable, too.
The underwire lace chemise works on our tall customers.  Not everyone is bold enough to buy it, but they all try it on and it works fab!
This 2 piece peignoir set is a classic and we also love that it goes up to size 6x and 4 colors.  We have one customer who is 6'1″ tall and she owns 3 of them.
And, lastly, our Fitted Stretch Cup Babydoll and robe works great on our tall customers and is so pretty in white, pink, purple and black.
I am sure there are some more, but that should be a good start. If you think of other blogs you would like me to write for lingerie that would work for your body type, let me know. I will try to write one for you, too. My guess is that if it's something you're looking for, there are probably thousands of other women looking too!
Are you following us on Instagram, yet?  We are @curvygirllingerie and our Facebook page is  www.facebook.com/curvygirlinc
Thanks! Happy shopping. We do ship all over the world.  And, you can become one of our insiders by testing us the word curvygirl to 22828.
The post Lingerie that is Perfect for our Tall Curvy Customers appeared first on Curvy Girl Inc..