Insta! Insta! Look All About It!
Posted on October 05 2015
Instagram, I am sure as all you know is amazing to way to be on social media. You can post pics, you can make cool collages, don't get me started on the hashtags. #EPIC
We, here at Curvy Girl have an awesome Instagram. On our Instagram you get to see what we have available for you guys if you want to hop over to our online store. We also share a quick look into life at Curvy Girl. It's ran by our resident Curvy Girl, Chrystal and our insta-maven, Gia. You will also find updates about events we are having, such as our Birthday Party coming up on Oct. 24th. Or you can take a look at past events and see the hot models at our fashion show. we do post inspirational stuff as well, just quick little reminders that you're beautiful and amazing. Why? Because no matter how you think your selfie turns out…#NoFiltersForMyMorningFace  you are beautiful and amazing. So please come and follow us on this crazy, sexy ride we call life. Like and share our posts and who knows you might be our fierce powerful unapologetic curvy "Woman Crush Wednesday" gal.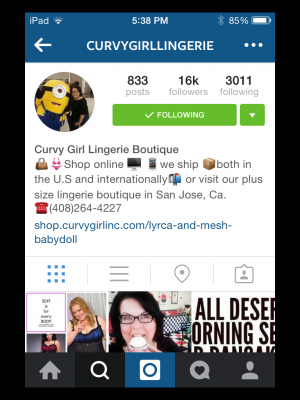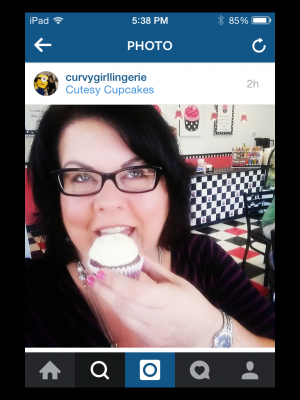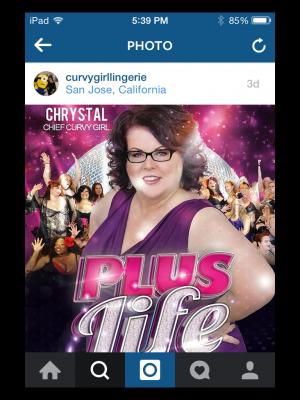 You can find us on Instagram by looking up Curvy Girl Lingerie or @CURVYGIRLLINGERIE
We look forward to connecting with you!
Also if you have any questions on items you see on our Instagram page you can give us a call at (408)264-4227, or even better if you're in the neighborhood stop by and try some stuff on. We are located at 1535 Meridian Ave.  Suite #30.
Don't forget to become a Curvy Girl insider by texting 22828 for in store and online promotions.
Hope to see you soon!
The post Insta! Insta! Look All About It! appeared first on Curvy Girl Inc..