Happy Pride!!!
Posted on June 22 2015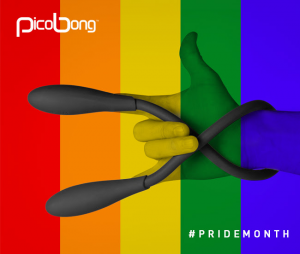 I just wanted to take a few minutes out of my day to talk about Pride and what it means to a curvy girl like myself. Pride has always held a special place in my heart, not only because I am a huge support of gay rights but human rights in general. I grew up in a very open house hold, I had 2 moms and a dad, totally normal right. Okay maybe not super normal or "average" but who wants that anyways. So growing up there was never any pressure to be a certain size, or fit into any mold. Ever since I could remember I have always been a chubby kid. No one ever pushed me to be thin or athletic, we did join a gym one summer because it had a pool. I never once ran on a treadmill or jogged.In fact I took dance instead of Physical Education in high school because you didn't have to run in dance class. Since there was never any pressure to be anyone but true to who I am I loved and still do love being around people who are the most comfortable being themselves.
The LGBTQ community has always welcomed me at whatever size I've been. They've allowed me to embrace my size and not care what other have had to say. So yes, I  will wear short shorts, I will not hide my chubby legs! Yes I will wear a 2 piece bathing suit, I hide my tummy for no one! (sometimes) I will rock a low cut shirt with my amazingly curvy cleavage screaming at anyone walking by!! AND yes! I have a muffin top! I love muffins and bagels! At the end of the day I'm comfortable in my own skin. I hope that for everyone. Be bold, be brave, embrace every amazing thing about you, and take pride in who you are. You are beautiful.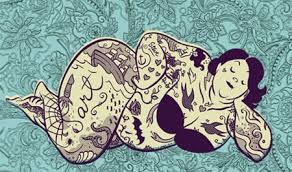 art work by Vera Brosgol
In honor of Pride, next week we are giving you brave beauties 15% off LELO Toys when you spend $45 or more. LELO toys are amazing.Use the code PRIDELELO.
We also carry LELO at our store located at 1535 Meridian Ave, San Jose, CA 95125. Give us a call if you have any questions at (408) 264-4227. We are open 7 days a week and would be happy to hear from you.
Don't forget to follow us on Instagram @Curvygirllingerie, Tweet with us on Twitter@BlissConnection, and like us on Facebook.
Also become a Curvy Girl Insider by texting 22828 for in store and online promotions.
Have a happy and safe Pride!
In case you missed the Links before LELO and artwork by Vera Blosgol
The post Happy Pride!!! appeared first on Curvy Girl Inc..