Halloooowweeeeeeeennnn! Is Right Around The Corner
Posted on September 25 2015
Personally I LOVE Halloween. I love dressing up, and Halloween parties are the best. Now I've been everything from a chicken to Wilma Flintstone. Dressing up for a night is a great way to let off some steam and just be wild, plus you're surrounded by  really cool creepy décor! SO much fun!
This Halloween we have a couple of awesome costumes. Now please, please, please remember that these costumes do tend to run small so if you have any questions please give us a call.
One of our costumes is a sexy Sword Warrior! It's a 3 piece set, includes rhinestone headpiece and silver lamé armbands. Sword is not included. The black velvet dress with high-low hemline, silver sequin waistline and hem trim, embellished and embroidered Royal Lion silver crest and attached long red chiffon sash is so regal and sexy.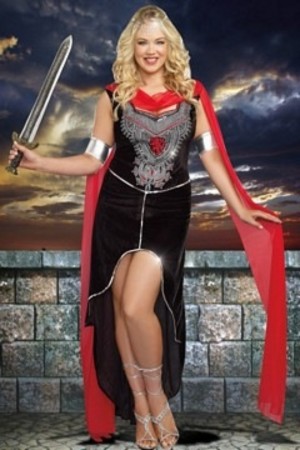 Another really awesome costume will definitely be Killing Me Softly, is a sexy vampire. This black and red velvet dress with trend-savvy high-low hemline and chiffon sleeves takes a big bite out of sexy! Fangs are not included…don't mean you can't nibble! *Wink*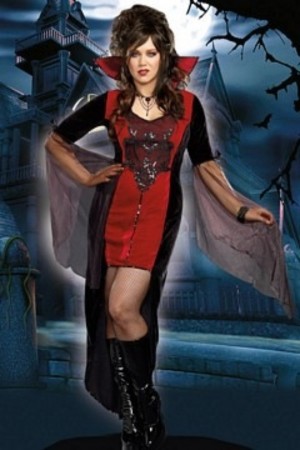 Here are the links incase you missed them Sword Warrior, Killing Me Softy
Again, sizing on costumes does run a little small. So please do not hesitate to call with any questions.
Also due to the costs and seasonal nature of costumes all costumes are final sale.
Give us a call if you have any questions at (408) 264-4227. We are open 7 days a week and would be happy to hear from you.
Don't forget to follow us on Instagram @Curvygirllingerie, Tweet with us on Twitter@BlissConnection, and like us on Facebook.
Also become a Curvy Girl Insider by texting 22828 for in store and online promotions
The post Halloooowweeeeeeeennnn! Is Right Around The Corner appeared first on Curvy Girl Inc..