Free Kixies with $60 Purchase
Posted on March 20 2014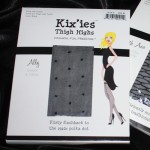 By now, if you follow us at all, you have heard us RAVE about the Kixies Thigh Highs that do NOT roll down and that do not turn your thighs into muffin tops.
If you would like to try them, now is a great opportunity. Spend $60 at our store or online and get a FREE pair of these magical thigh highs. Use the code allyc  or allyd  and will ship you a free pair of the polka dot ally kixies with your shipment.
The size D kixies works great on thighs that are 24″ to 35″ around. We have measure our customers here at the store and they work for those measurements. They may work on others, but we have proof that it works up to 35″.
No muffin tops. The silicone stay ups do not DIG into your soft thighs and make your legs look like dough from a can of pillsbury dough! And the do not roll down. (The only time I had an issue is when I had too much lotion on my upper thighs.)
Happy shopping.  Our online store is  www.CurvyGirlInc.com and just use the code  allyc (for size C) or allyd (for size D) when you check out online.
The post Free Kixies with $60 Purchase appeared first on Curvy Girl Inc..