Fierce Fat Girls : You are invited to a book signing at Curvy Girl Lingerie April 7th
Posted on February 01 2013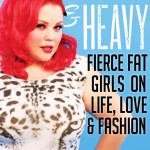 Virgie Tovar is coming to Curvy Girl Lingerie and you are invited! Ok, not sure if you know this or not, but Virgie is kind of a big deal! I mean, like seriously! A really big deal! And I am so honored she is taking the time from her busy schedule to come down to Curvy Girl Lingerie to meet all of you and sign her book! April 7th from 2 to 4pm!
SPONSORED BY:  LELO.com and CurvyGirlInc.com
Since we have limited space and only two hours, you are going to have to RSVP to this event. If you have your own copy of Virgie's book, the fee is just $5.00 to RSVP. If you want a copy of her book and for her to sign it, the fee is $15. You need to do one or the other, though. Bring your own copy or buy one. I will have them at the store to pick up that day for those of you who choose the BUY ONE option. (Buy buttons at the bottom of the post here or you can stop by our store and RSVP and make your payment.) (Virgie's website Hot & Heavy is here.)
Virgie is a pioneer and an innovator. She is a body image expert and coach. Featured by the San Francisco Chronicle, Bust, Jezebel and The Ricki Lake Show, Hot & Heavy: Fierce Fat Girls on Life, Love and Fashion is a ground-breaking collection of writing by big beautiful women. Edited by award-winning writer, coach and sexologist, Virgie Tovar, the book has been called "honest," "raw" and "vulnerable."
Hot & Heavy is ultimately about 31 women's journeys into self-love once they've made the decision to reject our culture's body-hating messages. It is about the unabashed pursuit of life and the demons we must fight to have the things we most value. The stories in the book have enormous range and capture so many facets of women's lives: April Flores writes about her life in the adult industry as a plus-sized woman, Erin Kilpatrick writes about how her fat literally saved her life during a horrible car crash, Christa Trueman writes about how her daughter became the key to ending a legacy of shame she was taught about her body. The book is incredible in its scope and in its collaborative effort. (You can buy Virgie's book here on Amazon.com)
And, I am excited to announce that my friend Tigress will be here, too. Tigress is one of the 31 women featured in Virgie's book. Tigress Osborn is a high school administrator and diversity educator by day and a nightclub event hostess by night. She is the creator of Full Figure Entertainment, a bi-monthly hip hop party for full bodied ladies and their friends and fans of all sizes. When not partying, Tigress and the FFE Models support size acceptance and other community events all over the Bay Area. So you can get them both to autograph your book!
I am excited to announce that LELO.com (the world's leading designer brand for intimate lifestyle products) is going to give away their Lelo brand personal moisturizer and their Lelo brand anti bacterial cleaning spray to each of our guests, plus we will have a Lelo Raffle prize to giveaway to one lucky winner on April 7th. 

This is one Curvy Girl event you will not want to miss and you can RSVP below. $5.00 or $15 depending on whether or not you already own a copy of Virgie's book.
RSVP – I am bringing my OWN copy of "Hot & Heavy" for Virgie to sign or I just want to attend and mingle, don't need a copy of the book.  $5.00
SOLD OUT ON THE BOOKS: RSVP –
Just $5.00 if you want to join us for the reception. Please use the button above to register for Sunday.
The post Fierce Fat Girls : You are invited to a book signing at Curvy Girl Lingerie April 7th appeared first on Curvy Girl Inc..