#FatGirlsCan : "Things No One Will Tell A Fat Girl" : Jes Baker's Book Signing Tonight
Posted on October 27 2015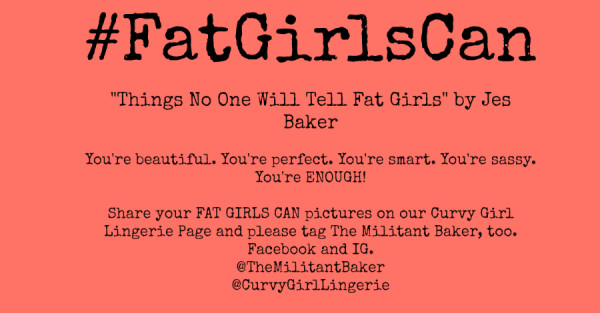 Tonight's the night. Today's the day!  Jes Baker's book (aka The Militant Baker) is officially available today, Oct. 27th. WOOT!  And, tonight in San Francisco at a super awesome book store on Haight called Booksmith is having her FIRST EVER BOOK SIGNING, Ya'll!  I promise to take lots of pics and share on our Facebook and Instagram. Buy your copy of "THINGS NO ONE WILL TELL FAT GIRLS" here on Amazon.
In honor of "Things No One Will Tell Fat Girls" there is a hashtag campaign going on and I think we should honor Jes and her book and all of her activism work and share some pictures of us bad asses with the fat asses doing ALL OF THE THINGS fat girls CAN do.  Please use the hashtag  #FatGirlsCan  and post on Facebook and Instagram. If you post on Instagram, be sure to tag us, Curvy Girl Lingerie and tag The Militant Baker, too!   #curvygirllingerie  #themilitantbaker
You can share your pics on my Curvy Girl Facebook Page and Instagram or both. Tomorrow, we will go find all of them and put them into a drawing and I will put together a packet of FUN goodies including her book, a sexy piece of lingerie and a vibrator especially for you! (Watch your Facebook "Other" box or your Instagram DM's tomorrow.)
www.Facebook.com/CurvyGirlInc on Facebook and  http://Instagram.com/CurvyGirlLingerie – either or both places is cool with me. Only one entry per person for the giveaway.
If you are new to our Curvy Girl community and you would like to become a Curvy Girl Insider, be sure to text us the word curvygirl (one word) to 22828 with your cell phone. We will put you on our newsletter mailing list.
I hope to see lots of you in San Francisco, tonight. I just can't wait to HUG Jes and congratulate her on her new book and love up on her for all of your activism work. She is my shero!  THANK YOU JES!  muah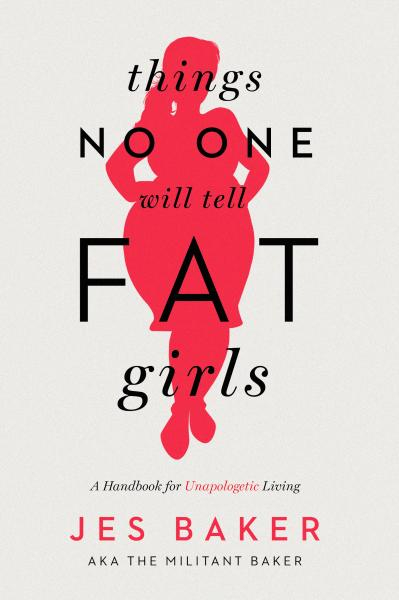 The post #FatGirlsCan : "Things No One Will Tell A Fat Girl" : Jes Baker's Book Signing Tonight appeared first on Curvy Girl Inc..