Early Detection, Self-Care and the Curvy Girl
Posted on March 24 2014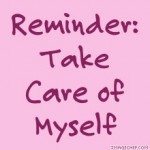 Well, I did it. Another "well woman" exam under my belt! But, like most plus size women, I dread going. Over the years, I have had a mixture of experiences when going to see my gyno. Some have been positive and some have been super demoralizing. If you are even 10 lbs overweight (according to whomever decides these arbitrary things) you probably are familiar with the angst I am talking about when you go in for your various doctors visits. (Always the first stop – the scale! No one LOVES getting on a scale, do they?)
Sadly, many curvy girls / plus size women do not get their annual exam because we are often treated like sh*t when we go and we are often talked down to and in harsh tones… because ya know… us fat girls don't get enough hate from the media, families, friends and the internet. So many curvy women skip their annual pap and other check ups to avoid the lectures.
I am happy to report I had a very happy experience today at Kaiser. I have been self employed for the past 11 years so I have been paying out of pocket all these years for my annual exams and other appointments. Now, thanks to the Affordable Care Act, I was able to actually BUY insurance.  In the past, when I tried to buy insurance, I would get turned down due to my BMI and/or weight.
The crazy thing (well it's not so crazy to me) is I am healthy as can be. Even today, my blood pressure was perfect. My cholesterol was right where it should be and so was my blood sugar. All of this after fasting for 12 hours, too. My pap results will take 3 weeks, but she said everything looked good and healthy. (And, will go in for my mammogram or thermography in a couple weeks to have the twins checked, although she did the manual exam today. I do the shower check about once a week, too.) So stay tuned on the breast exam, but her manual exam did not detect any unusual lumps or anything like that.
We did talk about weight and exercise and I appreciated my new doctor's approach. I think I brought up the topic first. I asked her if my blood pressure was ok. I was pretty sure it was definitely within range, but I asked her something like "is my blood pressure ok? Many people assume I have high blood pressure because of my weight." She said yep! I was at 122 / 79 today and she said I do not have anything to worry about, but I should have it checked annually. She said that she imagines it may even be reading a little high today since I was having a bit of anxiety about meeting new doctors and having new insurance and having a pap smear schedule for today. Smart woman, that Dr. Ragazzo.
As she did the "other" exam we all have to deal with – after the pap we did talk about belly fat. I told her that I had read that sometimes when women have belly fat that it's harder to do the manual exam. The other exam is when they put their hands inside of your vagina and push down on areas of your lower abdomen. I think it's called a bimanual exam. The doctor was feeling around to feel my uterus and other organs to make sure there are no tumors or that none of my other organs are enlarged. It was all good there and we talked a bit about ovarian cancer and what the signs are. (I recently lost a good friend at the age of 45 to ovarian cancer.) You may know it's called the "silent killer" in women because it's often misdiagnosed or gets diagnosed say too late, like with my girlfriend Kaycee. (Link for more info about ovarian cancer screenings.)
My doctor said that yes, belly fat can sometimes make it more difficult to feel the organs properly. But, she said that the rectovaginal exam can also help her to feel my organs better and then if she feels anything unusual, they she would order additional tests like a pelvic transvaginal ultrasound. But, having belly fat is NOT the end of the world is basically what she was trying to say.
So, my point to this entire blog is CURVY GIRLS – we need to make sure we go to the doctor. Early detection and screenings can save your life. If you don't go regularly then you don't have a baseline and you don't have  a relation with your doctor. It's so important to know where you are so you know where you are going. And, if your doctor is rude to you – stand up for yourself. I know it's now always easy, but what I do is I psyche myself up right before my appointment and I have a few stern comments ready to come back with if they say something cruel.
I always make sure I do my research and I always make sure I have my list of things I want to talk about. I like to be respectful of their time and also of mine. And, if they say something rude, I have my come back ready and I hope I do not have to use it!
I love you all so much and I don't want you to miss out on any early detection opportunities in case you do have any health issues. And, I have said this a hundred times, but I try to go to the doctor every year for my well woman exam the month of my birthday. I look at it as like a birthday gift for myself!
Sincerely, Chrystal Bougon
Owner and Resident Curvy Girl
www.CurvyGirlInc.com
Tel: 408-264-4227
The post Early Detection, Self-Care and the Curvy Girl appeared first on Curvy Girl Inc..