Curvy Girl Lingerie & Chrystal Bougon on CNN
Posted on November 30 2013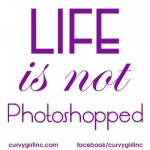 I am excited! I was interviewed on CNN this morning talking about our "unphotoshopped, regular woman" facebook campaign. They interviewed me and the "fit mom" about how she is "peeved' about my Curvy Girls sharing their "unphotoshopped" pictures on my Curvy Girl Facebook page.  Here is the video from CNN!
CURVY GIRL LINGERIE on CNN
http://www.cnn.com/video/standard.html?hpt=sitenav
And this website Mediaite.com share the CNN story, too. Here is their link to the CNN story: http://www.mediaite.com/tv/fit-mom-and-curvy-girl-clash-on-cnn-over-fat-shaming-and-anti-obesity-hate-speech/#disqus_thread
And here is the same interview on YOU TUBE, too!
http://www.youtube.com/watch?v=3wOOrGcQnhg&app=desktop
It's truly my mission at Curvy Girl Lingerie to spread the word that ALL women deserve to feel sexy and beautiful, no matter if they are a size 0 to a size 32!
www.CurvyGirlInc.com/buy-lingerie
Sincerely, Chrystal Bougon
Owner and Resident Curvy Girl
Curvy Girl Lingerie in San Jose, CA
The post Curvy Girl Lingerie & Chrystal Bougon on CNN appeared first on Curvy Girl Inc..