Curvy Girl Body Stockings at Curvy Girl Lingerie
Posted on February 20 2013
Wow, this plus size body stocking flies out of here when we get our weekly delivery. Everyone seems to love it. It fits women (or men) who are 175 to 275 lbs and you can be up to 6'2″ tall. (Here being our plus size lingerie store in Willow Glen, Curvy Girl.)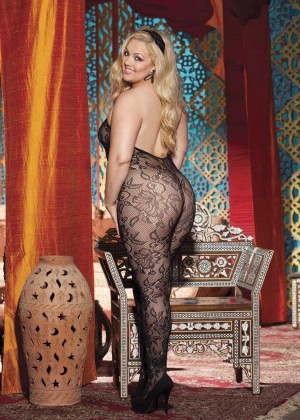 We also love that it is crotchless or open front, so you do not have to peel the whole thing off when you need to "go" or are having some naughty fun!
You can buy it here online with your credit card or Paypal. We try to keep them in stock in our store in Willow Glen. (1535 Meridian Ave, San Jose, 95125.) Or you can call us at 408-264-4227 to order it over the phone.
I thought I would share our #1 blog here, too. Are you too fat to wear lingerie? HELL NO. You can read more about my own experiences with people who want to share their diet wisdom with me and all of the crazy shit people have said to me about my size and weight. I know – people mean well – but seriously, people have said some really mean things to me in my life. Thankfully, their opinion of me means nothing to me.
Ok, here is the button if you want to buy it. I added in $3.00 for the shipping costs for us to mail it to you, too. We also have some fishnet stockings with the rhinestone seam in the back here for sale on our blog, too.
The post Curvy Girl Body Stockings at Curvy Girl Lingerie appeared first on Curvy Girl Inc..