BOGO Sale for LABOR DAY 4 Day Weekend
Posted on September 04 2015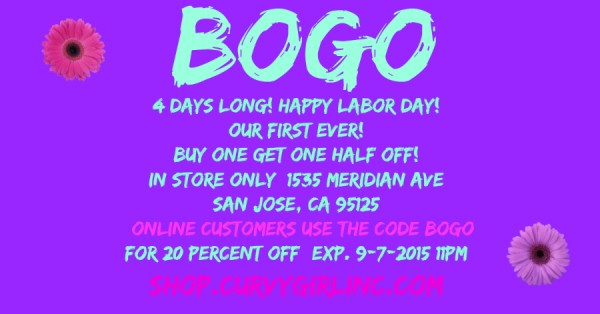 We are having our FIRST EVER B.O.G.O. sale all 4 days long. The actual B.O.G.O.  customers, too.  Use the same code BOGO when you shop online and you will get 20% off all weekend long… and by weekend I mean Friday through Monday! (This is a super fab dear for our international customers, too! Save 20%! Helps cover the cost of the shipping charges.)    This extra special sale is the 4th through the 7th of September, 2015.  Our online store is   shop.CurvyGirlInc.com 
If you can shop with us at the boutique in San Jose this weekend, our sale is BUY ONE GET ONE  Half Off. For every item you buy, you get a second item at 50% off. Always the most expensive item if full price. The more affordable item is half off. You can buy 2 items or 20 items…. we're happy to apply the sale to your purchase. (Sorry, we cannot apply this BOGO sale to our LELO.com toys, but all of the other toys, lubes, oils, etc are fair game.
We've never had a BOGO sale before we decided it's time to give it a try!  Have you been to my boutique before?  We specialize in lingerie in sizes 12 to size 28.  We also sell romance toys like the the Hitachi Magic Wand, my all time favorite bullet the 5 speed bullet,  and lots others, too. We are open 7 days a week and our boutique is in the Willow Glen section of San Jose.
We hope you have a fantastic Labor Day and come check out our first ever BOGO sale! We're virgins at this.

  It will be memorable, I am sure.
Are you getting our newsletter? Become a Curvy Girl Insider and text us the word curvygirl to 22828. We will automatically add you to our newsletter that we send about 2 times a month.
Follow us on Instagram!    http://Instagram.com/CurvyGirlLingerie
The post BOGO Sale for LABOR DAY 4 Day Weekend appeared first on Curvy Girl Inc..