Asking the Lingerie Designers for What We Want
Posted on July 07 2014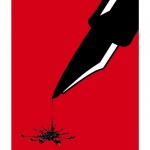 Hi Curvy Girls and our Allies:
I was recently in NYC for Full Figure Fashion Week and was invited to be on a panel to discuss the word "Plus" and what it means to us Curvy women. We also discussed if there are other words we would prefer to be used instead of PLUS. There were many other important topics that we chatted about and it was a full panel with lots of amazing curvy girls and curvy models in the audience.
What came of that meeting / panel discussion was this idea that we should start a letter writing campaign to the designers and ask for exactly what we want.  Since I am in the plus size lingerie industry, I am going to start by writing a "template letter" that we can all cut and paste and mail ourselves. ( I will get email addresses, Twitter handles and FB pages, too.)
So, to make sure the letter is PERFECT, I wanted to ask you for our feedback here. One I get some of your comments on the blog here, below, I will add your "Wish List" items to the letter and then will write a blog with the "official" letter you can copy and paste. (And will share all of the addresses and social media info.)
Let's use our voice! Collectively we are mighty!
So, tell me what you think is missing in what is currently available to women over the size of 12. Let's keep this lingerie specific since that is what I stock here at Curvy Girl Lingerie. (For example, I do not focus on bras. But, I know you all have strong feelings about bras.) I would prefer to keep this specific to panties, bustiers, corsets, baby dolls and other bedroom fun lingerie.
Your feedback is appreciated!
Want to become a Curvy Girl Insider?  Text us the word curvygirl to 22828 and be sure to join us on Facebook.  www.Facebook.com/curvygirlinc
Thanks for your comment and input below!
Sincerely, Chrystal Bougon
The post Asking the Lingerie Designers for What We Want appeared first on Curvy Girl Inc..