31 Things To Never Say To a Fat Person
Posted on April 29 2015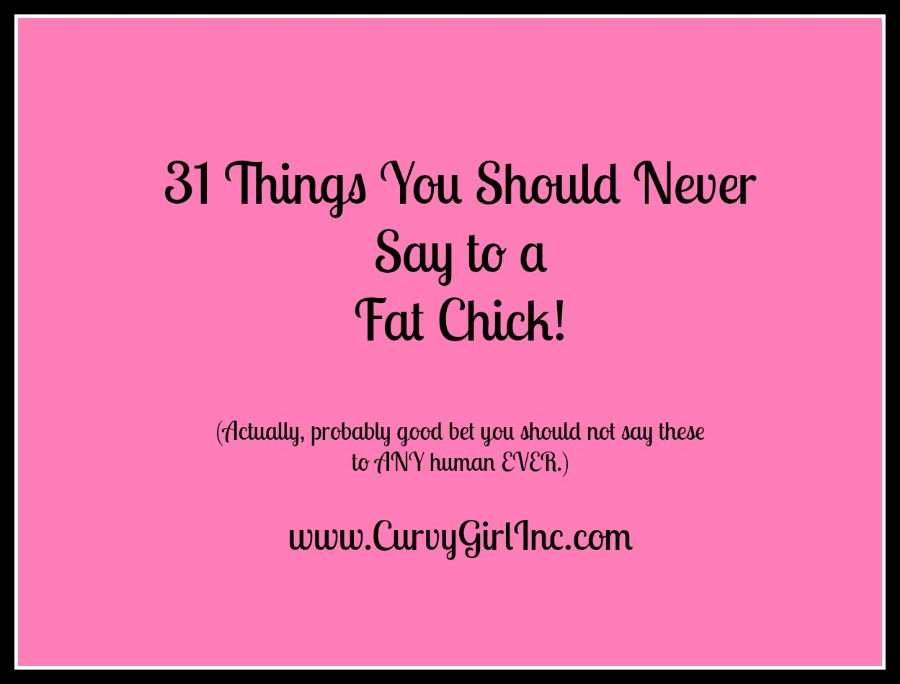 I owe this blog post to all of you who gave me your ideas for this blog on our Curvy Girl Lingerie Facebook page. OMG, you all had me in stitches with some of your shares. And, some of them had me really pissed off. So sad that other humans said all of those horrible things to you. I am so sorry about all of the insensitive a@@holes of the world.
31 Things You Should Never Say To A Fat Chick
1.  You're Not Fat. (So obnoxious when you're obviously a person of size.)
2. When Are You Due?
3. "OMG, I am sooooooo fat!" (When the person is clearly a size 00 or waaaay thinner then the other person/people nearby.)
4. You Have Such a Pretty Face.
5. You're Pretty For a Fat Girl.
6. Imagine How Pretty Would Be If You Lost Weight.
7. Hmmmm. Your blood pressure seems really normal. That can't be right. Let's Take It Again. Again. Again. And, again. (This happened to me recently. 5 times.)
8. You're Really Put Together For a Big Girl.
9. Just Go On a Diet. I'll Email You My New Cleanse/Fat Diet I Am On.
10. You Don't Act Like a Fat Person.
11. You Will Never Find a Husband/Wife/Lover Until You Lost That Weight.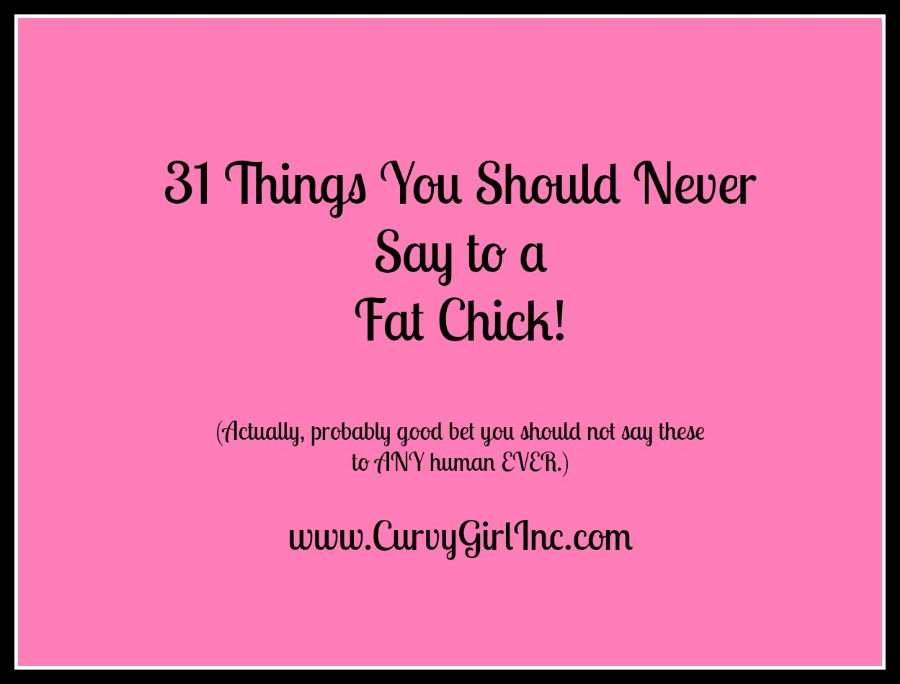 12. It's Nice to See You Out And About. It's Really Good Exercise.
13. It's All About Portion Control.
14. You Sure You Need That _______________ (donut, pizza slice, birthday cake, etc)
15. Why Don't You Just Eat Less?
16. Are You Really Going To Eat That?
17. Are You Really Going To Wear That?
18. The Plus Size Clothes Are In The Back Of The Store.
19. Why Don't You Just Get Weight Loss Surgery? Everyone's Doing It.
20. You Have Such a Great Personality.
21. You Have Such a Great Smile.
22. You Have Such a Good Heart.
23. Maybe You Don't Need Dessert This Time?
24. You're Not Fat; You're Beautiful.
25. Even Big, You're Just Fine.
26. You Should Not Wear Stripes. Ever.
27. Have You Lost Weight?
28. I Would Not Have Thought You Weighed So Much.
29. It's Good You're Tall; It Helps You To Carry Weight Better.
30. I'm Just Saying This Because I Care. I Worry About Your Health.
31. How Come You Are So Happy All The Time Even Though You are Fat?
I think I'll end on 31. I could go on and on… on and hey, check it.  31 Things … it's like the 31 Flavors of F**ked Up things you can say to really destroy someone's self-esteem.
Have more? Share them here or on our Facebook page.
And, we have a really good time on Instagram and we can even show nipples there! WE are @curvygirlLingerie on Instagram.
The post 31 Things To Never Say To a Fat Person appeared first on Curvy Girl Inc..